XIX-th
International Festival
of Red Cross and Health Films
September 16 - 19, 2021
FILMS INSIDE: Re-BONKERS - 14-20 September 2021
FILMS OPEN AIR: Sea Garden - 16-19 September 2021

RED CROSS & RED CRESCENT FILMS
THE RED CROSS IS THERE FOR PUERTO RICO AFTER A SERIES OF DEVASTATING EARTHQUAKES
USA, 2020, 2', documentary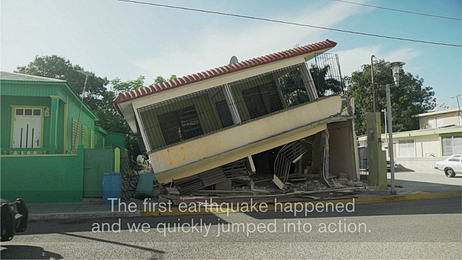 Production: American Red Cross
More than 1,000 earthquakes have hit Puerto Rico so far this month, leaving thousands to take refuge in shelters and thousands more to stay outdoors for fear of another quake destroying more buildings. The American Red Cross is on the ground, helping those affected. The repeated quakes are traumatic for communities still recovering from Hurricanes Maria and Irma.
THE ANGEL OF MERCY / АНГЕЛЪТ НА МИЛОСЪРДИЕТО
Bulgaria, 2021, 27 ', documentary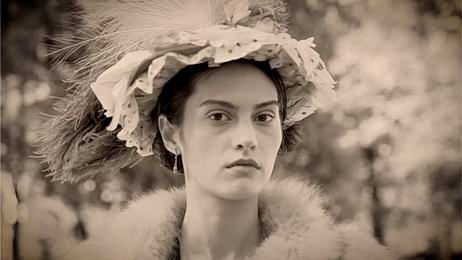 Director: Boris Radev
Screenwriter: Adelina Radeva
Cameraman: Rumen Ganev
Composer: Georgi Tsvetkov
Cast: Stefan Tsanev, Prof. Plamen Mitev, Western and Central European Metropolitan Anthony, Mayor of Byala Municipality, Rousse District Dimitar Slavov
Actors: Nikol Boycheva, Rosen Mihailov, Alexander Asparuhov, Red Cross volunteers from the town of Byala and others.
Executive producer: THEOREM
Producer: Byala Municipality, Rousse District
In Bulgaria, in the town of Byala, during the Russo-Turkish War of Liberation, an exceptional woman sacrificed her life in the name of the freedom of our people as a merciful sister - Baroness Julia Petrovna Vrevska. Born to be a muse of artists, musicians, the "queen" of balls and receptions, she chose the path of self-denial as her human duty. Historians, letters, memories of people who adored her and the works dedicated to her by the greatest writers of that time tell about her incredible history.
"Julia Vrevska - the rose of Russia, torn away on Bulgarian soil" - Victor Hugo
ROMANIAN RED CROSS DISASTER PREPAREDNESS
Romania, 3', documentary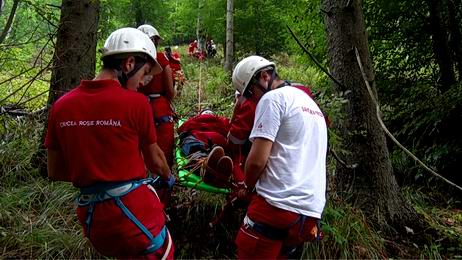 Production: Romanian Red Cross
On a global scale, natural disasters are an increasingly common challenge for humanity. A disaster never comes announced. That`s why we need trained people to intervene and to become rescuers of their community. Romanian Red Cross` volunteers are such heroes. Every year, every day, every moment they are in a continuous training for knowing how to act when in need. This movie is about them, warm-hearted volunteers who make an effort to be always ready to save as many lives. The film captures aspects from the disaster camp where volunteers are being trained, when real life-saving cases are simulated.
BRC ACTIVITIES DUE COVID-19 / ДЕЙНОСТИ НА БЧК В ОТГОВОР НА КОВИД
Bulgaria, 2021, 13', documentary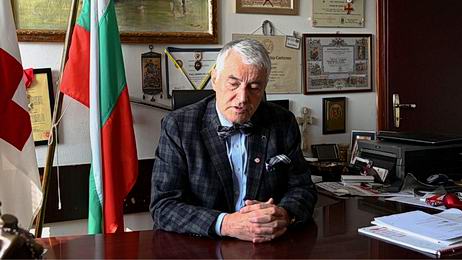 Production: Bulgarian Red Cross
VOLUNTEERS - NESSEBAR - BRC
Bulgaria, 2020, 11 ', documentary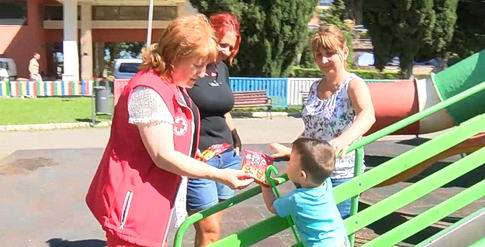 Production: Bulgarian Red Cross
THE VOLUNTEERS OF THE BRC IN THE FIGHT AGAINST COVID-19
Bulgaria, 2020, 3 ', documentary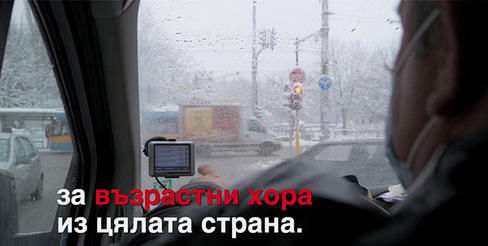 Production: Bulgarian Red Cross
GOODMAKERS IN ACTION / ДОБРОТВОРЦИ В ДЕЙСТВИЕ
Bulgaria, 2020, 6' , documentary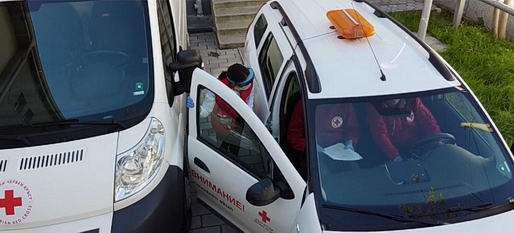 Production: Bulgarian Red Cross
BRC COVID-19
Bulgaria, 1 ', documentary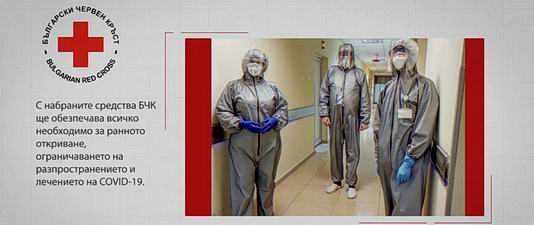 Production: Bulgarian Red Cross
A short video about the activities of the Bulgarian Red Cross during the KOVID-19 pandemic.
ERIC & KYLI'S STORY FROM THE IOWA DERECHO
USA, 2020, 2' 20", documentary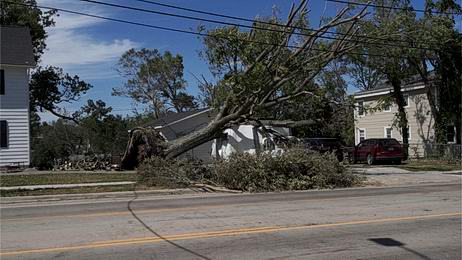 Production: American Red Cross
Eric and Kyli tell their experience in Derecho (Iowa) when a large storm hits the city during the pandemic and how Red Cross helped them with organized shelters and food. How they helped people to stay strong and be together.
BEHIND THE MASKS
Romania, 2021, 14', documentary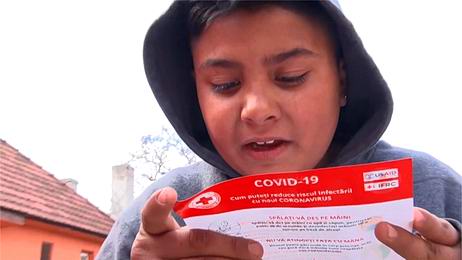 Directors: Raluca Mihalache & Iulian Bobîrnea
Script: Raluca Mihalache
Camera: Horia Ghimpa, Filip Scarlat
Edit: Cătălin Tiriplic
Producer: Filip Scarlat
Production: Media Center of the Romanian Red Cross
Pandemic taught us to take care of ourselves, wearing a mask and wash properly our hands. In Romania, there are poor communities where hygiene products represent a luxury. Therefore, these people become vulnerable facing the new coronavirus. 1000 volunteers from Romanian Red Cross went to the poorest communities with food packages and hygiene products. Masks can hide pain, hunger, fear, but also can hide courage, humanity, love and desire to help. Who are we behind the mask?
AMANDA'S COVID-19 STORY
USA, 2020, 2', documentary

Production: American Red Cross
As a nurse and paramedic, Amanda Solt, is used to being the one on the frontline helping to patients in need in her community. However, the tables turned for her when she became ill with the new coronavirus in late June. In a matter of a week, Mrs. Solt's headache and hacking cough had turned into excruciating body aches, scorching fevers and labored breathing. Not long after arriving at Piedmont Hospital, Mrs. Solt's health went from bad to worse causing her to be rushed to the intensive care unit. While, most of her time at the hospital is a bit of a blur she credits the doctors and nurses who helped her. She said, "Saying thank you feels so minuscule, how do you say thank you for a second chance?"
MARY AND DUSTIN'S STORY FROM THE WESTERN WILDFIRES
USA, 2021, 3', documentary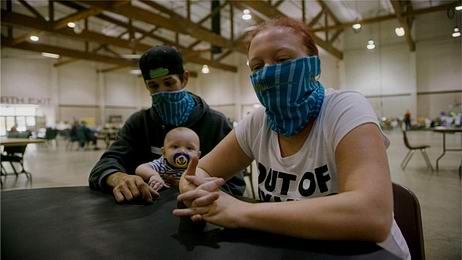 Production: American Red Cross
More than 90 large wildfires are burning across the west, forcing tens of thousands of people to evacuate and consuming more than 5 million acres. The Red Cross has mobilized a massive relief effort across three states and is working around the clock to ensure that people have a safe place to stay, with food, comfort and other assistance. Thousands are without power, roads are closed, schools shut down and flights cancelled going into the area. Entire towns are destroyed. The threat isn't over, even though the forecast is improving.
CORONAFILM
Switzerland, 7', documentary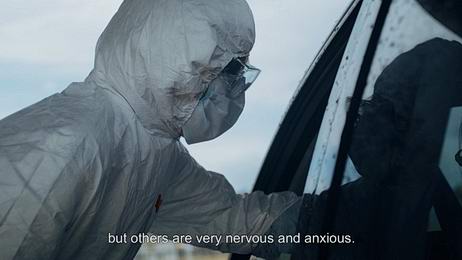 Production: Swiss Red Cross
ON THE GROUND: HUMANITARIANS IN ACTION. EPISODE 1: ITALY
Italy, 25', documentary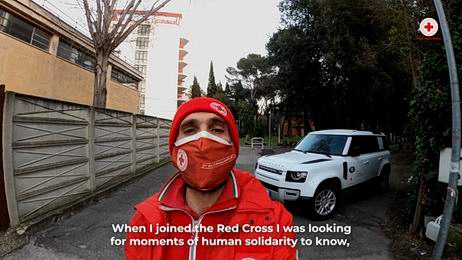 Production: Italian Red Cross
This episode filmed in Italy follows Red Cross volunteers and teams providing crucial support to thousands of homeless people living on the streets through the pandemic. More volunteers than ever before have stepped forward to distribute meals, as well as provide blankets, medical care and psychological support. We see first-hand how their work is needed more than ever before as economic pressures have increased and overnight shelters have limited space due to increased safety restrictions. IFRC and Land Rover have joined forces to bring you closer to the world's largest humanitarian network in a 4-part documentary mini-series. Filmed by local Red Cross teams using 360 GoPro cameras, witness life changing moments in Italy, Mexico, the UK and Australia.
NARI'K FIGHTS SICKLE CELL DISEASE WITH HELP FROM BLACK BLOOD DONORS
USA, 2020, 2', documentary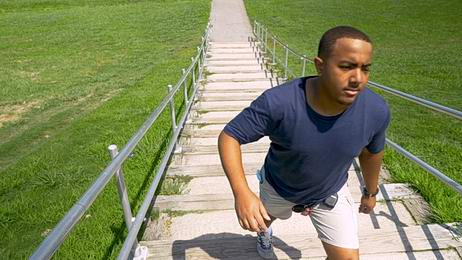 Production: American Red Cross
Nari'k Page is 22 years old and lives with sickle cell disease. Once every three months he is hospitalized for a sickle cell pain crisis and receives blood transfusions. It's important that he receive blood from the same race of similar ethnicity to help prevent complications from frequent transfusion therapies.
NEW BEGINING
Bulfaria, 44', documentary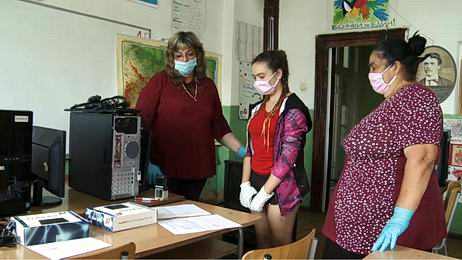 Production: Bulgarian Red Cross / Forum for civic participation
WEAR A MASK
Romania, 1', documentary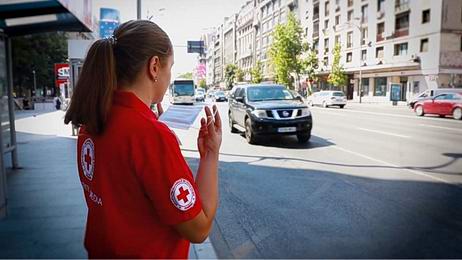 Production: Romanian Red Cross
The film is a video spot used by the Romanian Red Cross in the public information campaign on health measures to limit SARS COV2 infection. In this clip the population is encouraged to wear a mask correctly.
PATRICE'S DISASTER STORY
USA, 2021, 2', documentary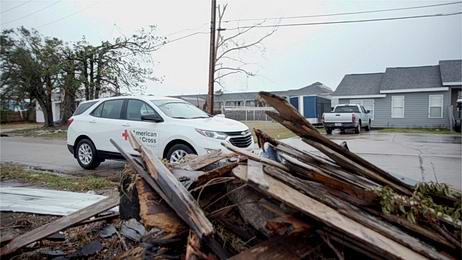 Production: American Red Cross
When Patrice and her son faced back-to-back hurricanes, American Red Cross volunteers provided emergency relief like food, emotional support and other assistance. Today, as they navigate their recovery, Patrice says she's thankful for the support of Red Cross donors and volunteers.
PREPARE WITH PEDRO: A HAND WASH STORY PSA
USA, 2021, 1', аnimated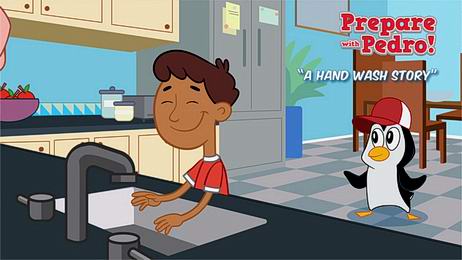 Production: American Red Cross
Learn how to wash your hands with our friend Pedro the Penguin! This 60 second song is a companion to our Prepare with Pedro: Wash Your Hands digital storybook.
PREPARE WITH PEDRO: A POWER OUTAGE STORY PSA
USA, 2021, 1', animated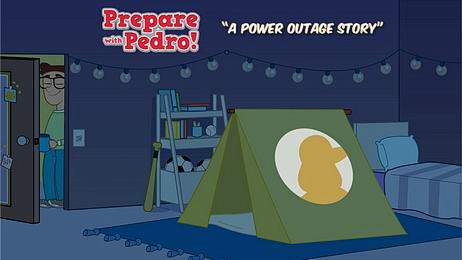 Production: American Red Cross
Learn how to be prepared for a power outage with our friend Pedro the Penguin! This 60 second song is a companion to our Prepare with Pedro: Power Outage digital storybook.
PREPARE WITH PEDRO: A WILDFIRE STORY PSA
USA, 2021, 1', аnimated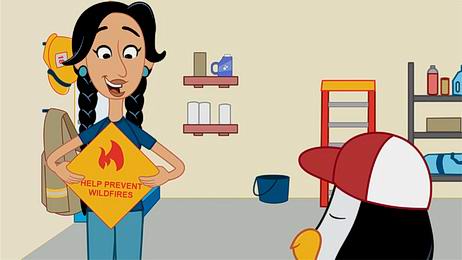 Production: American Red Cross
Learn how to be prepared for a wildfire with our friend Pedro the Penguin! This 60 second song is a companion to our Prepare with Pedro: Wildfire digital storybook.
CONGRATULATIONS ON THE OCCASION OF MAY 8 FROM #BCHKBURGAS
Bulgaria, 2020, 8 ', documentary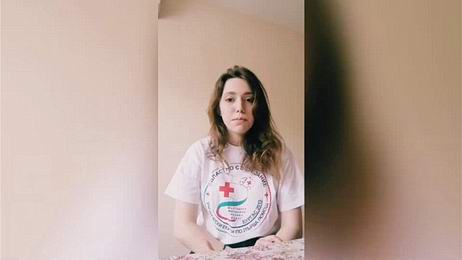 Production: Bulgarian Red Cross
ONE FAMILY'S STORY FROM HURRICANE DELTA
USA, 2020, 1' 20", documentary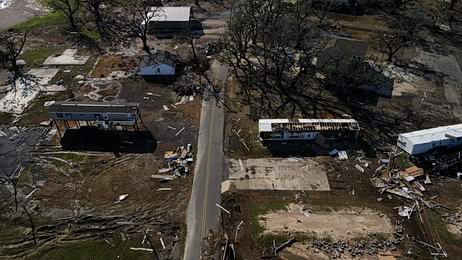 Production: American Red Cross
In the wake of Hurricane Delta, residents of Louisiana are once again beginning a massive cleanup job just a little over six weeks after Hurricane Laura hit the same communities. The White family is one of the families affected. The American Red Cross is there, working closely with local officials and partners to help those affected by the 4th named storm to hit Louisiana this hurricane season.
HYGIENE AND PREVENTION OF COVID-19
Bulgaria, 7 ', documentary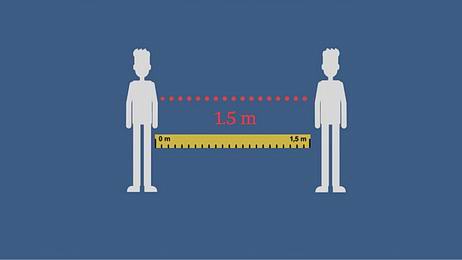 Production: Bulgarian Red Cross, Swiss Red Cross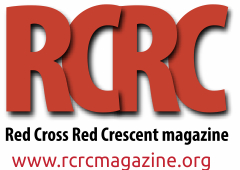 VOLUNTEERING DURING COVID19 GIVES MEANING TO MY DAY
RCRC, 2020, 4'15", documentary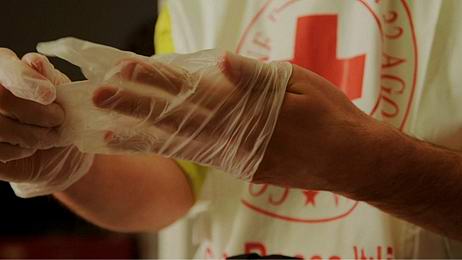 Directors: Malcolm Lucard, Irina Ruano
Videography: REON Studio
Production: International Commitee of Red Cross
The Covid-19 pandemic affects everyone. It is universal in a way unlike almost any recent natural disaster or health crisis. No wonder that we see an unprecedented level of solidarity, humanity and unity as ordinary people who have never done voluntary humanitarian work before are inspired to take action, helping neighbors and strangers alike. One of those new volunteers is Angela, a mother of two from Florence, Italy who was able to jumpstart her desire to help her fellow Florentines through a new, expedited volunteer training course offered by the Italian Red Cross. "The desire to be a volunteer had been with me for some time," says Angela, who now sees her daily food and medicine deliveries for elderly people as a gift for herself as well. "I see that it really gives a meaning to my day and it's exciting."
HOW I BECAME A VOLUNTEER DURING COVID19
RCRC, 2020, 4'15", documentary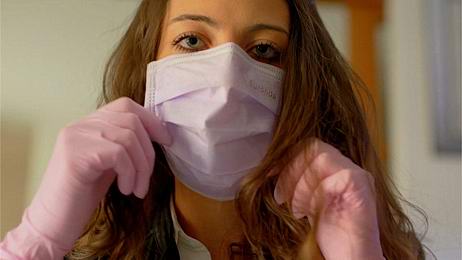 Directors: Malcolm Lucard, Irina Ruano
Videography: REON Studio
Production: International Commitee of Red Cross
Ludovica also joined the group of temporary volunteers from Italian Red Cross. She always had the desire of volunteering, but for different reasons she didn't pursued the option at that time. When the Coronavirus outbreak arrived to Italy, she decided that it was the perfect moment to volunteer. "When I started my grandmother asked me why was i joining, putting myself at risk. But I put myself in the shoes of those who may not have a person close by, and that's why I decided to volunteer".
VOLUNTEERING FOR THE RED CROSS DURING COVID19 HAS CHANGED ME
RCRC, 2020, 3'2", documentary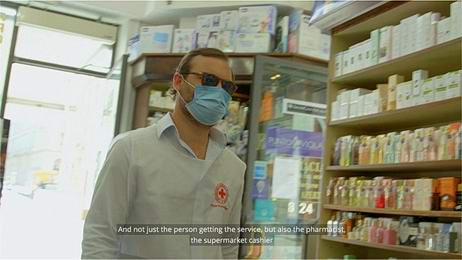 Directors: Malcolm Lucard, Irina Ruano
Videography: REON Studio
Production: International Commitee of Red Cross
Before the lockdown measures in Italy started to ease, volunteers like Marco delivered medicine and other essential products to people considered in high risk, like the elderly. He says that people waited for them as if that was the most important event of the day. "When they see us coming as Red Cross volunteers, they're very happy and show us their appreciation, so this is very rewarding". For Marco, volunteering has changed him and has made him believe that if humans are able to dream about a different world, then they are able to make it happen.
THANKSVOLUNTEERS | "STRANGERS MOVED BY THE SAME FEELING"
RCRC, 2020, 2'02", documentary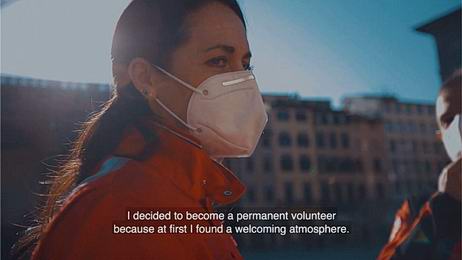 Directors: Malcolm Lucard, Irina Ruano
Videography: REON Studio
Production: International Commitee of Red Cross
Just like Angela, hundreds of thousands of volunteers around the world have joined Red Cross and Red Crescent National Societies during the Covid-19 response.
ISOLATION IN TIMES OF #COVID19 | "FIND YOUR INNER STABILITY"
RCRC, 2020, 2'02", documentary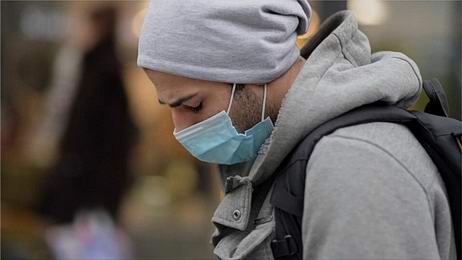 By : Victor Lacken, Videographer based in Amsterdam
For Hussein, who fled conflict in Syria in 2015 to come to the Netherlands, the key to dealing with separation and isolation from family and home is "finding inner stability" and meaning through activities like sports. "You have to go inside yourself," says Hussein, seen here working.
VIRTUALLY RECONNECTING IN #COVID19 TIMES | SO CLOSE, YET SO FAR
RCRC, 2020, 3'09", documentary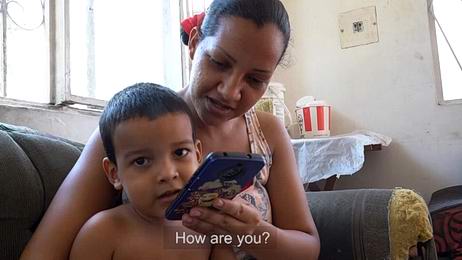 Director: Manuel Rueda
Clairet Mata is in a new country raising her son on her own. She says learning how to manage her feelings has been an important way of dealing with separation from her family. Just like Clairet, this is the story of many Venezuelans living now in Colombia and other countries in the region.
DATA PROTECTION: WHY #DATA­PRO­TECTION IS CRITICAL IN HUMANITARIAN ACTION (1 OF 3)
IFRC, 2021, 2'47", animation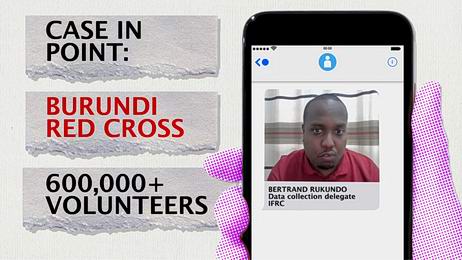 Director: Malcolm Lucard, Editor in Chief of RCRC magazine
Animation: Nadia Verlyck, Geneva, Switzerland
There's a new global gold rush going on. The new gold is data and it's being mined from cell phones and computers around the world in order to push products, services or political messages. But #data can also save lives and humanitarian organizations are mobilizing to improve the way they collect and use information. The question is: are they ready to handle the largely unregulated, 'wild west' of the global data market? Watch this first video in our series to find out how the Red Cross and Red Crescent Movement is promoting higher standards for data collection and use, and advocating for better protections of data used for humanitarian purposes.
DATA PROTECTION: BLOCK OR ACCEPT? (2 OF 3)
IFRC, 2021, 3'22", animation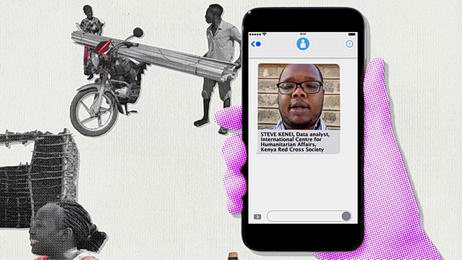 Director: Malcolm Lucard, Editor in Chief of RCRC magazine
Animation: Nadia Verlyck, Geneva, Switzerland
As humanitarian groups have rushed to embrace new technologies, #biometric data such as eye, finger and palm scans have become a common method for humanitarian organizations to track aid during #emergencies. But is the humanitarian sector fully ready to protect this most personal form of data?
A few decades ago, eye and palm scans were the stuff of high-tech thrillers and James Bond films. Today, they are a common part of daily life, even at places such camps for refugees and people displaced by crisis.
DATA PROTECTION: PROTECT­ING THE VULNERABLE MEANS PRO­TECTING THE VIRTUAL (3 OF 3)
IFRC, 2021, 3'55", animation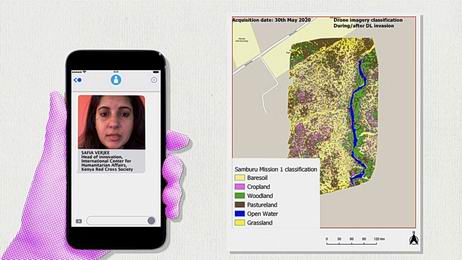 Director: Malcolm Lucard, Editor in Chief of RCRC magazine
Animation: Nadia Verlyck, Geneva, Switzerland
In places where conflict or crisis means basic services are scarce, the use of #data is saving lives. But protecting people's physical well-being, experts say, is also about protecting their digital profile in #cyberspace.
RECIPES FOR RESILIENCE: HOUDA'S DREAM
IFRC, 2020, 3'01", documentary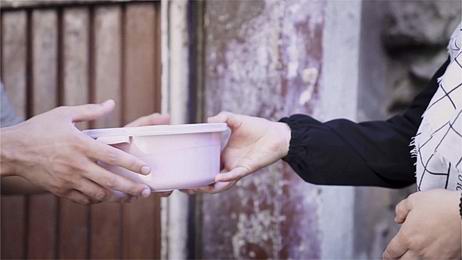 Production and Reporting: Malcolm Lucard
Production and editing: Ozan Güngör, Anıl Tokur, Murat Özkılıç
Before the war forced her to flee, Houda used to help her family survive in Syria by selling her delicious dishes to neighbours on the outskirts of Damascus. One of some 3.6 million Syrian refugees now living in Turkey, Houda enrolled in cooking classes at a community center run by the Turkish Red Crescent. Now she is making her way selling Turkish and Syrian delicacies to her new friends and neighbours.
RECIPES FOR RESILIENCE: COMFORT AFTER THE STORM
IFRC, 2020, 2'56", documentary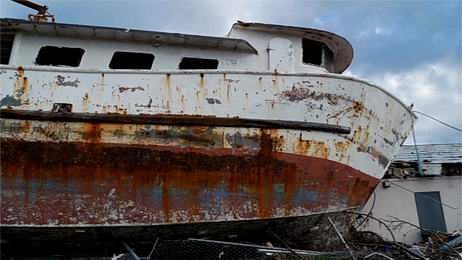 Videographer: Matthew McCoy, Zyandric Jones
Production: Irina Ruano
Reporting: Malcolm Lucard
Lovely Reckley's restaurant has long been the go-to place for a great Bahamian meal. But Lovely's Delights, as the restaurant is called, was almost lost after HurricaneDorian hit the Bahamian island of Abaco in December last year. Thanks to reconstruction grants from American Red Cross in support of the Bahamas Red Cross, Lovely's Delight was rebuilt and reopened and quickly became one of the few places on Abaco Island to get a little comfort food after the storm.
SEAWEED SERVES UP A SOLUTION TO CLIMATE WOES
IFRC, 2020, 2'42", documentary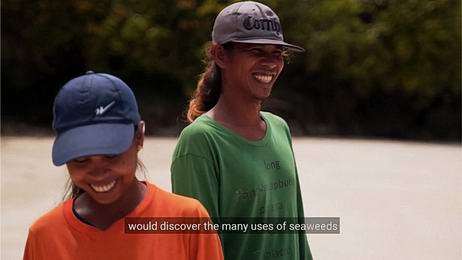 Videographer: Matthew McCoy, Zyandric Jones
Production: Irina Ruano
Reporting: Malcolm Lucard
Seaweed may not be the first thing that comes to mind when thinking about salad. But for many in the Philippines, there is nothing more natural than a savory, crisp seaweed salad. But the traditional practice of seaweed farming in many parts of the Philippines is under threat from severe storms and typhoons. Since Typhoon Phanfone in December 2019, Philippines Red Cross has provided cash grants to seaweed farmers such as Gerlyn and Ronnie Villasino to keep them afloat.
FROM GOATS TO GOURMET
IFRC, 2020, 3'04", documentary
Videographer: Peter Farkas
Production: Irina Ruano
Reporting: Malcolm Lucard
In a small town in northeastern Hungary, goats play a lead role in bringing hope to a region hard hit by economic change. Thanks to the Hungarian Red Cross, these furry, adorable creatures produce the milk that feeds a goat-cheese factory that, in turn, provides meaningful work and a steady income for 20 people with physical or mental disabilities, or who may have other disadvantages that have kept them from finding long-term employment.
WOMEN IN SCIENCE: A HEART AND MIND FOR SOLVING UNIVERSAL PROBLEMS
IFRC, 2020, 2'59", documentary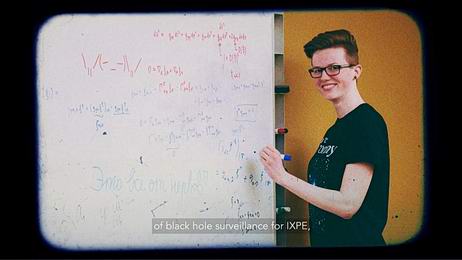 Directors: Irina Ruano, Malcolm Lucard
Videographer: Lubomir Baran / Freelance videographer based in Bratislava, Slovakia
As a researcher, Romy Mikušincová takes on one of the greatest mysteries of space. As a Red Cross volunteer, she explores some of the most pressing social and humanitarian issues of our times.
WOMEN IN SCIENCE: SEEING THE WORLD, AND HELPING OTHERS, THROUGH SCIENCE
IFRC / 2020 / 2'42", documentary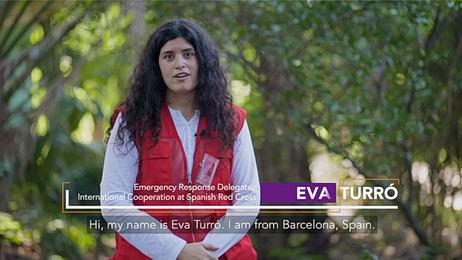 Directors: Irina Ruano, Malcolm Lucard
Videographer: Johannes Chinchilla/ IFRC
Video editor: Thibault Lauritzen
As a biologist who responds to emergencies for the Spanish Red Cross, Eva Turró has found her place in the humanitarian world, raising awareness about the life-saving link between health and hygiene in the wake of calamity.
PERU: FAMILIES PREPARE BEFORE FLOODS THROUGH WEATHER FORECASTS
IFRC, 2019, 6'35", documentary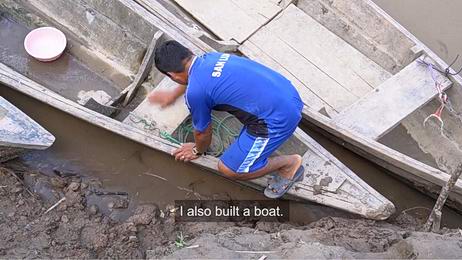 Reporting and videography: Manuel Rueda
Production and editing: Irina Ruano
Beatriz Paredes and Marcos Paimaya live in Iquitos, Peru. Every year the Amazon River swells and expands into their communities affecting their health, damaging their homes and destroying their livelihoods. But there are innovative solutions like Forecast-based Financing that helps them prepare before disasters strike. This tool will save lives, protect people's livelihoods and reduce the need of expensive emergency relief.
A PARADIGM SHIFT
IFRC, 2019, 3'24", documentary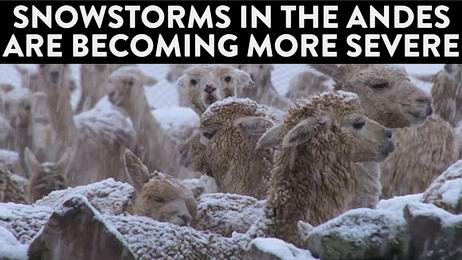 Reporting and videography: Manuel Rueda
Production and editing: Irina Ruano
Photos: Bruno Chávez / Peruvian Red Cross
Flavio and Ines' family have been living off of alpacas for generations, but climate change is threatening their livelihood. Severe winter storms put their flock in danger. Thanks to The Red Cross and a strategy called "forecast-based financing," communities like this one in Santa Lucia, Peru are getting the help they need before disaster hits.
TRUST IN ACTION: THE CHALLENGES OF BEING A DOCTOR AND A VOLUNTEER IN VENEZUELA
IFRC, 2019, 4'52", documentary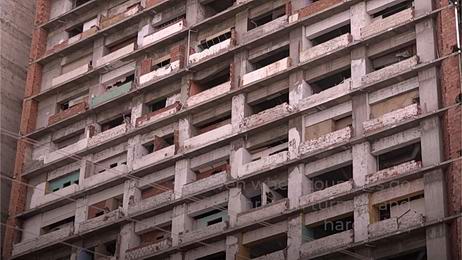 Reporting and videography: Manuel Rueda
Production and editing: Irina Ruano
Meet Luis Lamus, a RedCross medical volunteer committed to the health of his fellow Venezuelans. This is his voice, his story and his daily challenges.
"I've had the chance to go and work abroad. But I'm doing ok here, I like what I do here. Why go and work somewhere else and face the challenges of not living at home? If you study here, I think the least you should do is help patients here in #Venezuela. Because here we are running out of doctors".
HEALTH FILMS
MY VIOCE WILL BE WITH YOU / MA VOIX T'ACCOMPAGNERA
Belgium, 2020, 86', documentary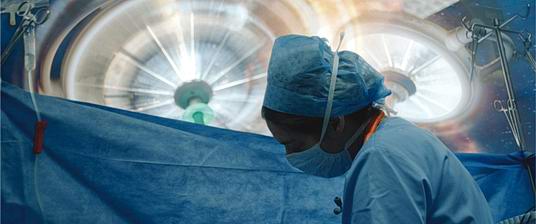 Director: Bruno Tracq
Producer: Benoit Roland
Fabienne Roelants and Christine Watremez are some of the most renowned specialists in surgical hypnosis. Their voices guide thoughts and can recompose reality. As practitioners, they nurture the doctor-patient relationships that are often damaged by modern medicine, and invite an unusual force in the operating room: the power of imagination.
MEASURE OF TIME / LE TEMPS RE-TRANCHE
France, 2021, 59', Documentary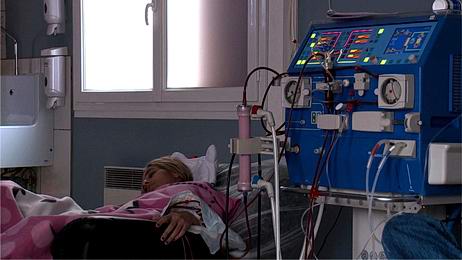 Director & writer: Benjamin Silvestre
Producer: Marie-Agnès AZUELOS
Measure Of Time is an intimate and sensitive portraiture of living life with kidney failure and dialysis.
This immersive documentary shares the day to day life stories and tribulations about those whose very survival depends on a pump, a blood filtration device. Time is restructured between two worlds. An invisible one where we slip away behind the curtains of an unremitting disability that requires setting aside life hours, measured on a weekly basis. Then there is the visible world, where we may return to if only for what seems to be a brief moment in time before we must slip away, yet again. Measure of Time is about combatting a disease through acceptance and hope. It's about making two worlds coexist as seamlessly as possible, when possible as we wait our turn for a transplant.
ROUND TRIANGLE / EL TRIÁNGULO REDONDO
Spain, 2021, 36 ', documentary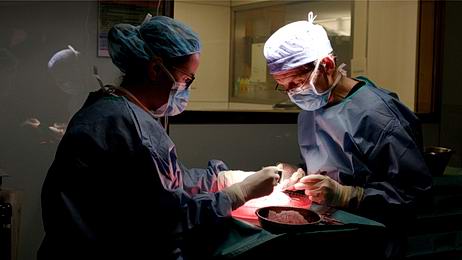 Director & writer: Ricard Mamblona
Producer: DOCME Films
DOP: Carles Muñoz Gómez-Quintero, Albert Ramon Francia (Director of Photography)
Sound: Alejandro Molano
Editing: Albert Ramon Francia
Àngel is 54 years old and has suffered from kidney disease since he was 26. Because of his family history, his clinical prognosis seems clear: dialysis and kidney transplantation.
Montse is 58 years old and her main goal is to live life to the full with the people she holds dear. For this reason she will perform the greatest act of love a person can do.
Dr. Alcaraz, the surgeon with the greatest number of solid transplants performed in all of Spain, a world reference in his specialty, will put into practice all his knowledge and his emotional intelligence to make their hopes come true.
A story of love, empathy and cutting-edge medical technology in which the patient and their emotions take center stage, in the midst of a global pandemic that rocks the day-to-day life of hospitals to the core.
Living Donation, The Greatest Act of Love.
FLYERS / ЛЕТУНЫ
Russian Federation, 2021, 44', documentary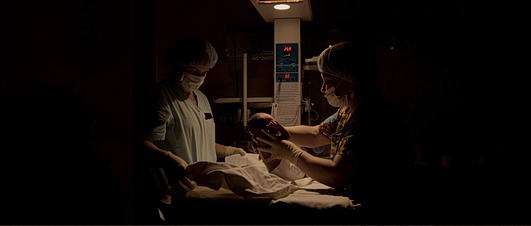 Director & Writer: Anna Katorina
Camera: Pavel Skvortsov
Producer: Alexey Telnov
Nadya and Nikolai Fedorovich are used to save children in the north. They are both doctors of air ambulance, with different backgrounds: Nikolai Fedorovich has been working for over 40 years, and Nadya - 3 years.
LIFE FROM LIFE / ЖИВОТ ОТ ЖИВОТА
Bulgaria, 2021, 80 ', documentary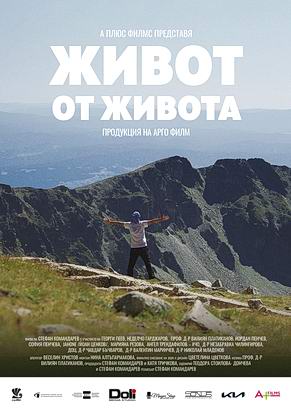 Director: Stefan Komandarev
Screenplay: Teodora Stoilova-Doncheva, Stefan Komandarev
Participants: Georgi Peev, Nedelcho Gadjarov, Prof. Dr. Vilian Platnikov, Yordan Penchev, Sofia Pencheva and others.
Cameraman: Veselin Hristov
Editing: Nina Altaparmakova
Producers: Stefan Komandarev, Katya Trichkova
Production: Argo film
Honest presentation and understanding of reality is the first condition to change in it, the only prerequisite for effective action. And this is the first goal of "Life from Life" - to show the real situation with transplants in Bulgaria and change it.
The second goal is to keep hope. To the heroes of the film, to the 1041 waiting, to the Bulgarians for a fairer society, for a more social and accessible healthcare.
MILITARY DOCTOR MISSION - O.Z. REGIMENT DR. PETAR GANCHEV
Bulgaria, 2021, 15 ', documentary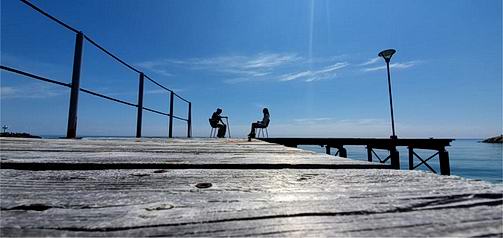 Director and screenwriter: Magdalena Todorova
Cameramen: Lazar Elenkov, Stoycho Stoychev
Sound: Volen Voinov
Editing: Dobromir Dyankov
Producer: Medical University - Varna
Documentary about O.Z. Colonel Dr. Petar Ganchev, on whose initiative the first hyperbaric complex with a multi-seat pressure chamber was established in the Varna Hospital at the Military Medical Academy. For his contribution and proven professionalism he was awarded the "For Dignity and Honor" award of the Minister of Defense, as well as the "Honorary Coin - Souvenir" of the Commander of the Navy. Dr. Petar Ganchev is a longtime doctor in the submarine division. One of the cases in his medical practice is sealed in the Bulgarian feature film from 1977 by director Hristo Hristov "Against the Wind", excerpts from which are included in the Mission "Military Doctor".
THE HEALER AND THE SEA - Assoc.DR. STAMAT STAMATOV(1923 - 2014)
Bulgaria, 2021, 40 ', documentary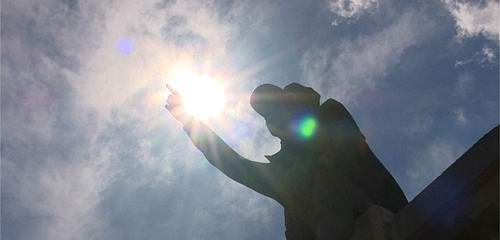 Director and screenwriter: Magdalena Todorova
Cameramen: Lazar Elenkov, Evtim Hristov
Sound and editing: Volen Voinov
With the participation of: Mariana Stamatova, Julianna Stamatova, Martin Valchev, Assoc. Prof. Emanuela Mutafova, Prof. Marin Neshkov, Prof. Dr. Rinaldo Shishkov, Prof. Dr. Encho Kalchev, Assoc. Prof. Dr. Evgenia Vladeva, Assoc. Mariana Mikhailova
Producer: Medical University - Varna
The documentary film "The Healer and the Sea" is dedicated to the life and work of Assoc. Prof. Dr. Stamat Stamatov. He is one of the founders of medical tourism on the Bulgarian coast, a lecturer at MU - Varna, and a part-time lecturer in medical tourism at the University of Economics - Varna, a consultant at the Clinical and Balneological Center "Dobrudja" in the resort. Albena, and in 1975 president of the International Thalassotherapy Association (AIT). The documentary traces his contribution to the development of the science of sea treatment and thalassotherapy. Doyen belongs to the academic community not only at the Medical University - Varna, but also to our sea capital. Honorary citizen of Varna, "Scientist of the Year" for 2001. For 60 years of research he bequeathed over 400 scientific and methodological materials.
SHE IS NOT DIFFERENT
Bulgaria, 2021, 28 ', documentary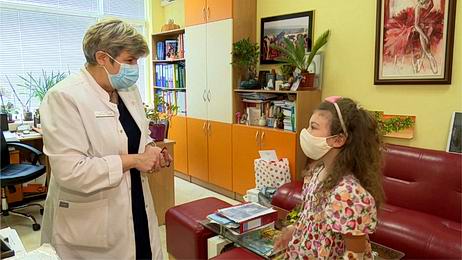 Director: Genoveva Donkova
Screenwriters: Genoveva Donkova, Prof. Dr. Violeta Yotova
Cameraman: Evtim Hristov
Sound: Volen Voinov
Editing: Anatoly Dobrev
Producer: Varna Society of Pediatric Endocrinology
Meet seven-year-old Antonia! She says about herself: "I'm not like the other children." A film of the Varna Society of Pediatric Endocrinology, made by the television of the Medical University - Varna "MU-Vi.tv". Through the eyes of a family, medical professionals and teachers, the story of the Joint Program of the Municipality of Varna, Varna Society of Pediatric Endocrinology and Medical University - Varna, is told, which provides children with diabetes and rare diseases, as well as their parents, full life.
GET VACCINATED! BE FREE!
Bulgaria, 2021, 11 ', documentary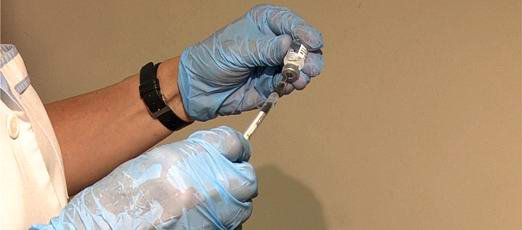 Director and screenwriter: Genoveva Donkova
Cameraman: Lazar Elenkov
Sound: Volen Voinov
Editing: Tihomir Stoyanov
Producer: Medical University - Varna
A short film made by the television of the Medical University - Varna "MU-Vi.tv", in support of the vaccination campaign in the city. Meeting with already vaccinated representatives of different professions, information about vaccination points, the opinion of specialists on the need for vaccines.
HOW DREAMS GROW
Bulgaria, 2020, 7 ', documentary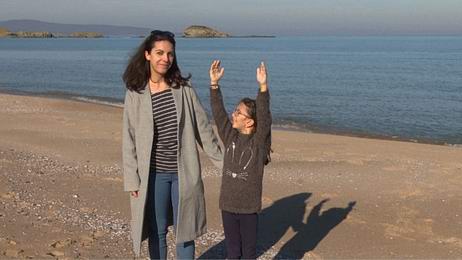 Screenplay and direction: Iva Martinova
Cameraman: Evtim Hristov
Installation: eng. Anatoly Dobrev
Animation: Dobromir Dyankov
Producer: Medical University - Varna
Dimana is small, but in order to grow big she injects herself with growth hormone every day because she lives with Turner syndrome. The documentary tells about Dimana's life, following her in two periods - at the age of six and nine.
THE KING'S DISEASE
Bulgaria, 2019, 30 ', documentary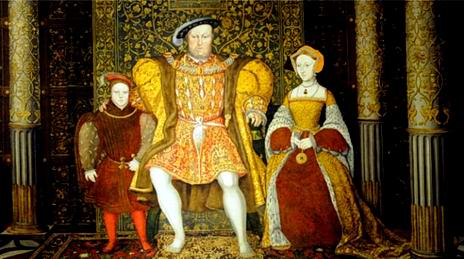 Director and editing: Valentina Fidanova-Kolarova
Screenwriter: Prof. Zlatimir Kolarov, MD
Cameraman: Zdravko Ruzhev
Animation: Krassimir Vodenicharov
Gout, the most common inflammatory joint disease that affects 2% of the population of industrialized countries, has been described in the past as "the disease of kings and queens of disease." Why? Through animation and old paintings by artists, a doctor will introduce us to the curious history of this disease.
DOCUMENTARIES
MINOR LIFES / VIDAS MENORES
Spain, 2020, 78', documentary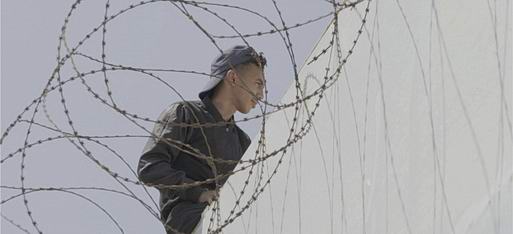 Director and producer: Alfredo Torrescalles
Screenplay: Alfredo Torrescalles, Diana Muñoz Hurtado
In recent years, thousands of Moroccan minors left their country to try to live in Europe. They travel without relatives; many of them sneak into transports that cross the Mediterranean to the Spanish coast. Minor lives accompany several of these boys in different moments of their journey portraying their day-to-day life just as they live it.
The documentary revolves around the impact and the meaning that this journey has for them. Their story is told from a human perspective without other testimonies but the ones of the main characters and offering the spectator a look without filters or Manichean discourses.
This is a mosaic film where the camera becomes a witness to the everyday actions of boys from different backgrounds and follows the progress of their migratory inertia from Morocco to Sweden.
WANDERING, A ROHINGYA STORY / ERRANCE SANS RETOUR
Canada, 2021, 98', documentary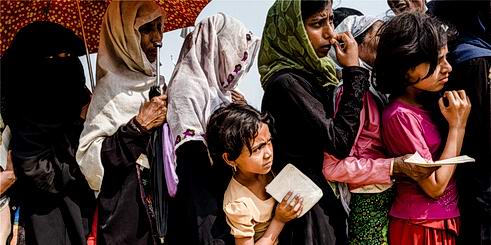 Directors, screenplay & producers: Mélanie Carrier, Olivier Higgins
Narration and Poem: Kala Miya (Kalam)
Voice Over and Translation: Mohammed Shofi
Camera: Renaud Philippe, Olivier Higgins
Music: Martin Dumais
Editors: Olivier Higgins, Amélie Labrèche
Within a few months, the Kutupalong refugee camp has become the biggest in the world. Out of sight, 700,000 people of the Rohingya Muslim minority fled Myanmar in 2017 to escape genocide and seek asylum in Bangladesh. Prisoners of a major yet little publicized humanitarian crisis, Kalam, Mohammad, Montas and other exiles want to make their voice heard. Between poetry and nightmares, food distribution and soccer games, they testify to their daily realities and the ghosts of their past memories. Around them, the spectre of wandering, waiting, disappearing. In this place almost out of space and time, is it still possible to exist?
TWO GODS
United States, 2020, 82', documentary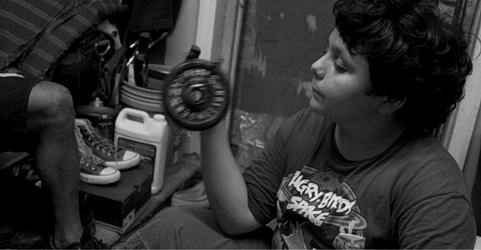 Director: Zeshawn Ali
Music: Michael Beharie
Editor: Colin Nusbaum
Prodrucer: Aman Ali
"Two Gods" tells the story of Hanif, a Muslim casket maker and ritual body washer in Newark who takes two young men under his wing to teach them how to live better lives.
QUIET LEGACY / ТИХО НАСЛЕДСТВО
Bulgaria, 2021, 60 ', documentary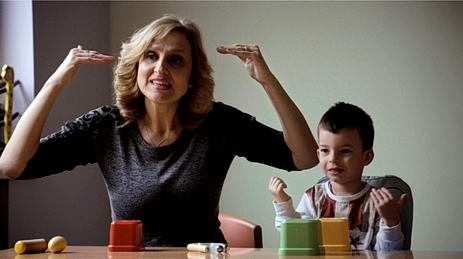 Director: Petya Nakova
Screenplay: Petya Nakova, Ognyan Statelov
Cameraman: Dimitar Kostov
Field recording: Harry Boyadzhiyski
Editing: Stoyan Velinov
Music: Georgi Strezov
Sound director: Ivan Andreev
Cast: Tanya Dimitrova, Katerina Vasileva
Producer: Katya Trichkova
Products: Contrast Films, HBO Europe Documentaries
Tanya is a devoted teacher at her educational center for deaf children. Life puts her in an unexpected ordeal and she is forced to go abroad for treatment. Her 20-year-old daughter, Cathy, takes responsibility for the center, as well as caring for her younger sister. Cathy is facing a life test and a professional challenge for which she is not prepared. Will the strength of family and friendship be enough for a mother and daughter to cope?
SHORT DOCUMENTARIES
HELL / EL INFERNO
Spain, 2019, 23', documentary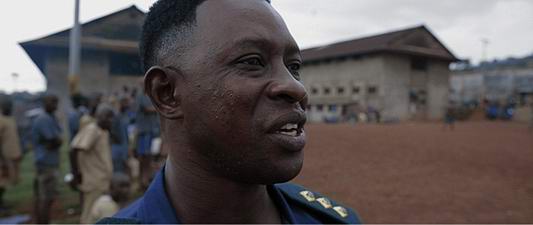 Director: Raúl De La Fuente
Screenpay: Raúl De La Fuente, Amaia Remírez
Camera: Raúl De La Fuente
Music: Mikel Salas
Chennu committed his first crime when he was 15 years old: being a street kid. And he entered hell: Pademba Road. The adult prison in Freetown. In hell, Mr. Sillah is in charge, and there is no hope. Chennu got out after four years. Now he wants to go back.
PROTRACTED DISPLACEMENT IN AN URBAN WORLD
Kenya, 2020, 40', documentary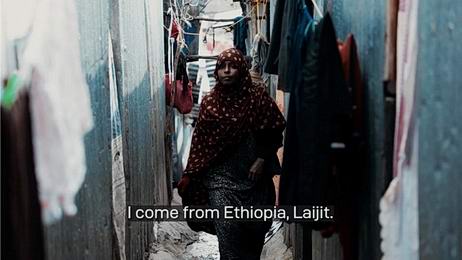 Director: Abdi Wahid
Screenplay: Kamila Abdirahman
Producer: Jack Makau, Jackline Wanyonyi
Cast: Farhia Bishar
This is a 40-minute documentary telling the stories of urban refugees in Kenya.
It shows the experiences of a handful of refugee households living in Mathare – an informal settlement – in Nairobi, Kenya.
In interviews in their homes, women and men from Ethiopia, Somalia and the Democratic Republic of the Congo speak frankly about the events that caused them to flee, their struggles finding shelter and work in Nairobi, and how COVID-19 is impacting on their lives and livelihoods.
Their stories demonstrate how little assistance they receive as refugees, and the challenges they face dealing with the authorities and humanitarian agencies.
FAREWELL AT SILVER HILL
Islamic Republic of Iran, 2021, 20', documentary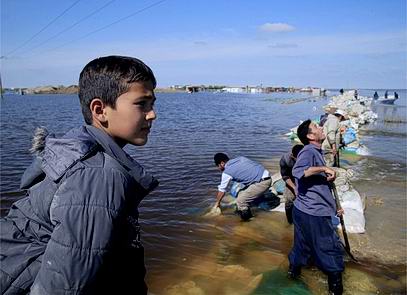 Directors: Mehdi Sahebdel, Yashar Kamizi
Screenplay: Mehdi Sahebdel
Producer: Mehdi Sahebdel
This documentary is a story about the efforts of people of a small city in northeastern Iran whose main occupation has been fishing for centuries, who united together to save their city from floods and built an initiative dam with empty hands without any help from the government; And although they managed to prevent water from entering their city, they paid an irreparable price for it.
#BOZA
Spain, 2020,17', documentary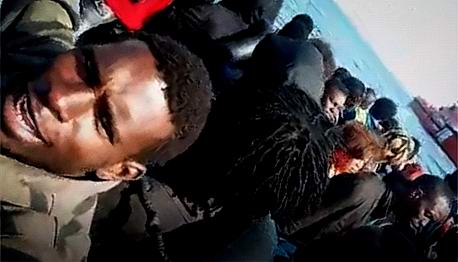 Directors, screenplay & producers: Séverine Sajous, Anna Surinyach
Editor: Jose Manuel Val
Sound designer: Chris Blakey
Sript Coordinator: Pepe Combalia
Images: Aminata Camara, Mamadou Bamba, Yahya Makhtar, Mariam Sarr, Alhassane Traore, Massadje Diomande, Samuel Nacar
Production Company: 5W Prod.
Executive Producer: Maribel Izcue
In first person narrative and using videos and Selfies, Alhassane, Aminata, Mamadou, Mariam and Yahya tell their journeys and their goal of making "boza". A word of disputed origin and exact meaning, "boza" is used by those trying to cross this particular border to describe the goal, and the act of successful crossing. The film #boza removes all filters, becoming a collective Selfie on migration.
FEATURE FILMS
THE BLESSED / БЛАЖЕНИЯТ
Bulgaria, 2021, 105 ', feature film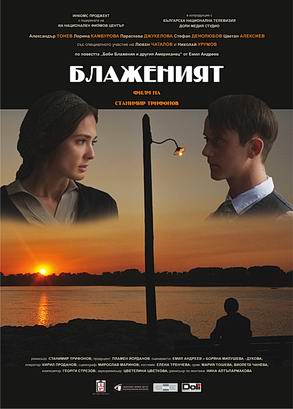 Director: Stanimir Trifonov
Screenplay: Emil Andreev, Boryana Milusheva-Dukova
Cameraman: Kiril Prodanov
Music: Georgi Strezov
Cast: Alexander Tonev, Lorina Kamburova, Paraskeva Dzhukelova, Stefan Denolyubov, Lyuben Chatalov
Producer: Plamen Yordanov
Products: Inkoms Project
Immaculate love, priceless medicine and a chance meeting with the future president of the United States, John F. Kennedy, turned a person's life upside down. The bombing of Sofia in January 1944 ruined his sanity, but he saved his innocent soul. Bobby's story is a flight to the past and the present, to the eternal human passions, falls and virtues that accompany our short existence.
OUT OF SIGHT, OUT OF MIND
United States, 2019, 120', Feature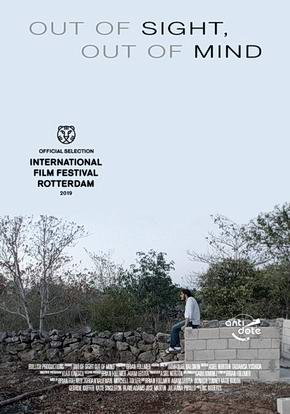 Director & Writer: Brian Follmer
Producers: Blake Adams, Asiel Norton, Brian Follmer
Key Cast: Blake Adams -"Zander", Katie Booth - "Vivian", Brian Follmer - "O'Brien", Geordie Kieffer, Adam Leotta, Jose Martin, Tiburcio Nac, Julianna Pirillo, Katie Singleton, Oonagh Tunney, Martin Pobutsky, Eric Roberts
On New Year's Day, Travis Porter leaves his comfortable life in Los Angeles to live in Yucatan, Mexico, in order to "find himself." When he finally settles into Mexico and befriends a group of young socialist activists, Travis hears that his childhood friend, O'Brien, is suffering from the early symptoms of schizophrenia. Travis is torn between two worlds and must return to the United States to help his friend, even if he's risking the chance of doing more harm than good.
MAMONGA
Serbia, 2019, 92', Feature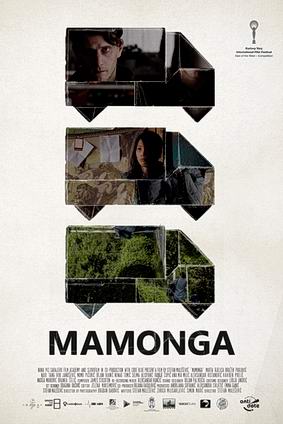 Director: Stefan Malesevic
Screenplay: Stefan Malesevic, Simon Maric, Zorica Milisavljevic, Ivan Stancic
Producers: Aleksandra Cvijetic, Emina Ganic, Stefan Malesevic, Andrijana Sofranic
Cast: Marta Bjelica, Dražen Pavlović, Nabi Tang, Vuk Janošević
The child refuses to speak. The Asian cannot understand the language of the locals in the mountains. The trucker's son won't raise his voice. She speaks only when necessary. Years go by. Trucks go by. Words go by. Time goes forward, but they run in circles.
LEIF IN CONCERT Vol. 2
Germany, 2019, 112', feature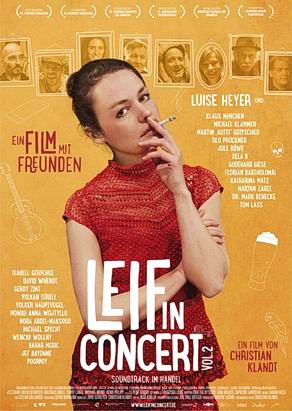 Director & screenplay: Christian Klandt
Producer: Martin Lischke
Cast: Luise Heyer – "Lene", Klaus Manchen – "Klaus", Michael Klammer – "Kilian", Florian Bartholomäi – "Max", Gerdy Zint – "Jari", Godehard Giese – "Robert", Bela B – "Oli", Tilo Prückner – "Günter", Maryam Zaree – "Selma", Dr. Mark Benecke - "Dr. Mark Benecke", Tom Lass – "Tom", Isabell Gerschke – "Uschi", Jule Böwe – "Mutti", David Wnendt – "Klempner", Martin "Gotti" Gottschild – "Martin", Monika Wojtyllo – "Kathrin", Volker Hauptvogel – "Micha", Katharina Matz – "Elisabeth", Michael Specht – "Lolo", Volkan Türeli - "Ali"
Sometimes life forces us to take a turn and start on a new path.
Leif is supposed to play a concert - in a jazz & blues bar somewhere in Germany. His stage name is Poorboy and he is from Copenhagen. Copenhagen is also where Lene first saw him on stage. Fascinated by Leif's music, she invited him to play a show at her bar in Germany.
"Leif in Concert" is a day in Lene's life, the day of the planned concert. It is also Lene's first shift after a long break. At the bar on this day, Lene meets friends, acquaintances and strangers. She awaits deliveries of beer, wine and cigarettes. Lene allows some of her musician friends to use the bar's stage for their rehearsal. Everyone who enters the bar that day gets to listen to Leif's music. The music triggers something different in everybody: a smile, a memory, the desire to dance.
A bar would be nothing without its regulars. That's why "Leif in Concert" also tells their stories. In the course of the film we eavesdrop on four conversations. We learn about fairy-pop, invisible mobile phones, giant snails, and maggots feeding on dead bodies.
The stories and lives of the guests and staff, as diverse as they may seem, are intersecting here. Every detail and every anecdote contribute a piece to Lene's larger story, to this family that makes this gloomy, smoky bar the best place in the world.
But not all is rosy in Lene's life. She is avoiding some decisions and conflicts. Which path lies ahead of her? And what if the concert could not take place? What if some small details endanger all her plannings?
MADLY IN LIFE / UNE VIE DEMENTE
Belgium, 2020, 87', Feature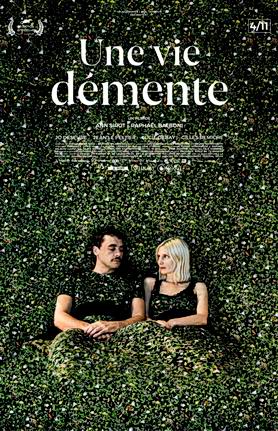 Directors & Screenplay : Raphaël Balboni, Ann Sirot
Camera: Jorge Piquer Rodríguez
Production Management : Sara Dufossé
Cast: Lucie Debay, Jo Deseure, Jean Le Peltier, Gilles Remiche
Alex and Noémie, in their thirties, would like to have a child. But their plans are turned upside down when Alex's mother, Suzanne, starts doing crazy stuff. It's because she has contracted 'semantic dementia', a fatal neurodegenerative disease that affects her behavior. She spends lavishly, pays nightly visits to her neighbors to eat sandwiches, makes herself a fake driver's license with glue and scissors. Suzanne the mother goes to Suzanne the unmanageable-kid. A strange school of parenting for Noémie and Alex.
SHORT LIVE ACTION FILMS
ANNA / АНА
UKRAINE / UK / ISRAEL, 2019, 15', Short feature

Director & Screenplay: Dekel Berenson
Camera: Volodymyr Ivanov
Produced by Merlin Merton, Dekel Berenson
Producers - Ukraine: Vitaliy Shermetiev, Olga Beskhmelnytsina
Executive Producers: Natalia Libet, Elad Keidan, Dima Konoplov
Cast: Svetlana Barandich, Anastasia Vyazovskaya, Eric R. Gilliatt, Alina Chornogub, Liana Khobelia, Istan Rozumny, Pavel Levitsky
Living in war-torn Eastern Ukraine, Anna is an aging single mother who is desperate for a change. Lured by a radio advertisement, she goes to party with a group of American men who are touring the country, searching for love.
ASHMINA
NEPAL, UK, 2018, 15', Short feature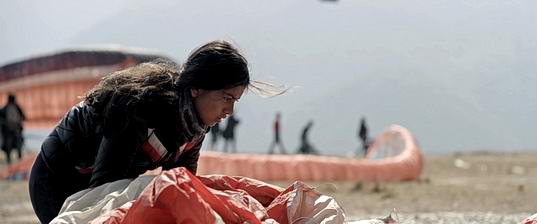 Director & Screenplay: Dekel Berenson
Camera: Vasco Viana
Producers: Dekel Berenson, Dominic Davey, Merlin Merton, Anna Rozalska
Cast: Dikshya Karki, Prakat Pageni, Sadhana Bhandari, Sebastian Seitz, Ramona Swhajor, Sachin Ragme, Shyam Khadka, Charlotte Stade
Nestled between a beautiful lake and the Himalayas, Ashmina, 13, lives with her family at the outskirts of Pokhara Nepal, paragliding capital of the world. The remote and traditional town is also a busy tourist destination where the locals are profoundly affected by the swarms of tourists who visit it daily. Skipping school, Ashmina helps her family make ends meet by working at the landing field, packing the parachutes of foreign pilots for small change.
TODAY / AUJOURD'HUI
France, 2020, 20', Short feature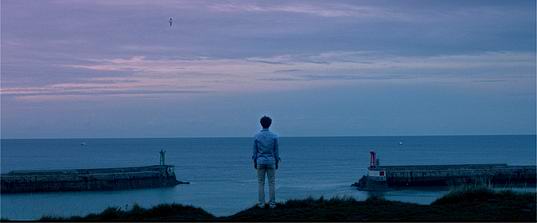 Director: Francis Chillet
Screenplay: Isis Ahsam, Mathieu Defemme, Francis Chillet
Producer: Alexis Lacroix
Cast: Loïc Forest - "Felix", Julien Crampon - "Hugo", Marine Rouvrais - "Océane", Ambre Brisset - "Manon"
After three years abroad, Felix returns to his childhood village for Christmas. The memories come flooding back as he meets up again with olds friends and he retraces moments which have forged the man he has become today.
THE DELIVERY / TESLIMAT
Cyprus, 2020,12', Short feature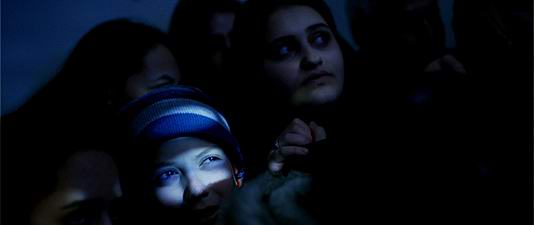 Director & Screenplay: Doğuş Özokutan
Camera: Pieter Verburg
Music: Frank van Bracht
Producers: Vasvi Çiftcioğlu, Doğuş Özokutan, Murat Aktuğralı, Laura Albasha
Cast: İzel Seylani
Yusuf accepts the job of carrying refugees with his refrigerated meat truck, believing this is the only way to find money for saving his daughter's life. When the smuggler shows up with the refugees, Yusuf realizes there are also kids that wouldn't survive in a refrigerated truck, but still keeps on with the job, gambling with their lives.
DUSTIN
France, 2020, 20', Short feature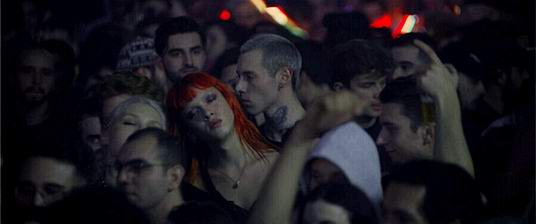 Director, Screenplay & Camera: Naïla Guiget
Music: Jean-Charles Bastion
Producer: Jean-Etienne Brat, Lou Chicoteau
Cast: Dustin – Dustin Muchuvitz, Félix – Félix Maritaud, Raya – Raya Martigny, Juan – Juan Corrales, Lucie – Lucie Borleteau, Erwan – Erwan Fale
In an abandoned warehouse, a crowd is dancing as one on 145 BPM techno music. Among them is Dustin, a young transgender and crew: Felix, Raya and Juan. As the night draws on, collective hysteria morphs into sweet melancholy, and euphoria into yearning for tenderness.
ALIVE
Sweden, 2020, 23', Short feature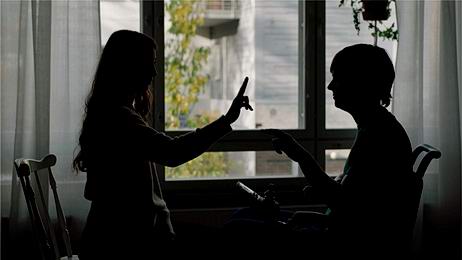 Director & Screenplay: Jimmy Olsson
Camera: Staffan Övgård
Music: Peter Gregson
Producers: Petter Selvehed, Ville Olin, Christian Kielberg
Cast: Eva Johansson - "Victoria", Madeleine Martin - "Ida", Joel Ödmann - "Björn", Philip Oros - "Assistant", Jimmy Olsson - "Håkan"
Victoria is in a wheelchair and Ida works as her assistant. When Victoria meets Ida's boyfriend, something happens to her: she also wants closeness and love. Ida helps her make a Tinder profile and soon afterwards Viktoria gets a match with Håkan. Ida becomes worried about how she will handle the situation, even more when she sees how Håkan looks.
P.S. DUCKY-DUCKY-DUCKY / P.S. УТИ-УТИ-УТИ
Russian Federation, 2020, 17', Short feature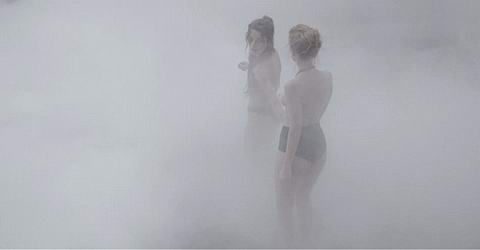 Director: Sergey Soloviev
Screenplay: Stacy Venkova
Producers: Anton Treushnikov, Tim Lobov, Tikhon Pendurin, Boris Nelepo
Cast: Stacy Venkova - "Nicole", Anastasia Teplinskaya - "Mila", Sergey Soloviev - "Man"
At a turning point in her life, the bright and tender Nicole meets a strange girl called Mila by the pond. They accidentally find out how many secrets this very pond holds and understand that it is now that they really need each other.
THE SHADOW COVERED BY COACH / 嘎抓的陰影面積
Taiwan, 2020, 9', Short feature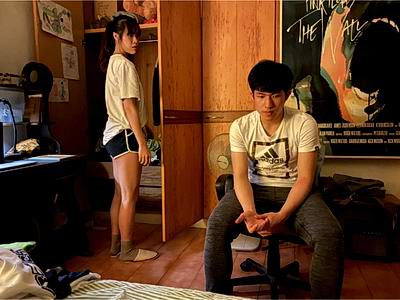 Director & Screenplay: Mega Lee
Producer: Jing-Ying Huang
Cast: Aldrich Kuo - "Yu", Sheng-Chi - "Hung", Chen-Sheng Chung - "Father", Hao-Che Tang - "Yu (Childhood)", Miuccia Ta - "Hung (Childhood)"
The brother is having conflict with his sister because she wants to sell the house they grew up after their father just past away. She is now the only family he had and he's unwilling to give up the memories. One night, while they are fighting, a cockroach interrupts them and it happens to be the most horrifying creature to him. However, this creature would later on change both of them.
PURE HAPPINESS / ЧИСТО ЩАСТИЕ
Bulgaria, 2021, 26 ', black and white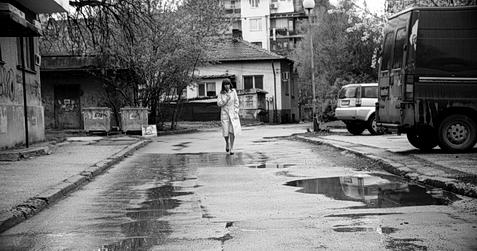 Directors and screenwriters: Krum Yankov and Katelina Kancheva
Cameraman: Dimitar Kostov
Cast: Katelina Kancheva, Mariana Krumova, Lidia Stefanova, Dimitar Petkanov, Momchil Alexiev
Mother and daughter are forced to leave their home. Coincidence meets them with their savior and everything is arranged overnight.
CONSOLATION / УТЕШЕНИЕ
Russian Federation, 2020, 12', Short feature
Director, screenplay & producer: Lina Asadullina
Cast: Anna Zaykova, Nodar Siradze
A female translator of the Greek language from time to time has sex at nights in cars with some occasional taxi drivers. She doesn't meet them anymore. But one enchanted taxi driver migrant (a person born in former Soviet Republic - Georgia) is trying to find her and he is detained by the police instead. Only this beautiful stranger can help him… But she has to overcome her fears and hang-ups in order to help him.

BACK TO TOP