16-th International Festival
of Red Cross and Health Films
September 28-th - October 3-rd, 2015
INFORMATION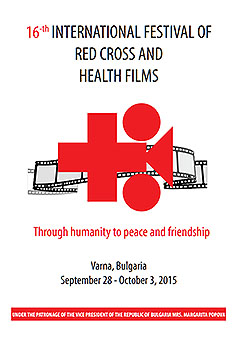 The XVI-th edition of the International Festival of Red Cross and Health Films will be held from 28-th September to 3-rd October 2015 in Varna, once more under the patronage of the vice president of the Republic of Bulgaria Mrs. Margarita Popova. 144 films from 25 countries will be presented.
This edition of the Festival has a competitive character, as 118 films will be competing in the following categories :
1. Red Cross and Red Crescent films, revealing the activities of the Red Cross and Red Crescent National Societies all over the world;
2. Documentary films (covering the topical issues in the spheres of medicine, health care, ecology, migration, human rights, disasters);
3. Feature films (full-length) presenting humanity issues.
The international Jury of the Festival:
PAVEL VASEV - Chairman - Bulgarian National Film Centre Executive Manager
VYARA ANKOVA – Bulgarian National Television General Manager
BETTINA KUMMER – Swiss Red Cross representative
BEPPE CINO – Film Director Italy
FATIH ISCI – Film Director Red Crescent Turkey
PROF. TEMELKO TEMELKOV - Varna Medical Society representative

Parallel to the competitive program, the spectators are going to enjoy the special selection of films from the Sofia Film Fest, from the Panoramas: of the Serbian film director Dusan Milic; of the Golden Kuker animation film festival; of the Russian cinema. Two of the important accents in the XVI-th edition of the International Festival of Red Cross and Health Films are the information categories "70 years since the end of World War II" and "100 Years Bulgarian Cinema".
The Festival days will be rich in meetings, discussions on topical issues like health care, Red Cross and Red Crescent related items; first aid demonstrations; round tables, that will allow the audience meet with the guests and participants.
The Festival will welcome Red Cross and Red Crescent members from Bulgaria, Switzerland, Turkey, New Zealand; European and Bulgarian physicians; filmmakers, like Beppe Cino – Italy, Dusan Milic - Serbia, Fatih Isci – Turkey, Harald Gephardt – Russia, Eivind Tolås - Norway, etc. Many Bulgarian famous actors and film directors are participating in the Festival.
Regulations
Regulations for XVI-th International Film Festival (English version)
To download the regulations in PDF You can click with the right mouse button and choose "Save as".
Film Submission Form
Click here for the XVI-th International Film Festival 2015 submission form
Please when You submit a film - fill the required fields, and check what else You need to send us at the end of the form.
Additional info to send:
Synopsis
Cast & crew list
Biography and filmography of the director
Still from the film (5 stills)
English dialogue list
Contact Adress
Postal address
International Festival of Red Cross and Health Films - Varna
3 Bratia Shkorpil Str.
9000 Varna
BULGARIA (EU)
e-mail
Festival Secretary
Mrs Svetla Lefterova
phone: +359 888 422 421


SUPPORT US
Foundation International Festival of Red Cross and Health Films
IBAN: BG02STSA93000022044759
BIC: STSABGSF
Bank: DSK
Bank adress: Bulgaria, Sofia 1036, 19 Moskovska Str.

BACK TO TOP